You're unique and your mental health support is, too. Whether you want to work on your own, with a peer or a clinician – or any combination of the three – Health & Wellness is here for you. We can also help you navigate your options and adjust your care. We offer a variety of resources and levels of support to meet you where you are, and to help you move forward on the path that's right for you.
There are lots of ways to access mental health support. From learning new skills and changing old habits, to talking to peers who understand what you're going through, you'll find lots of ways to access mental health support on campus.
Personalize your wellness journey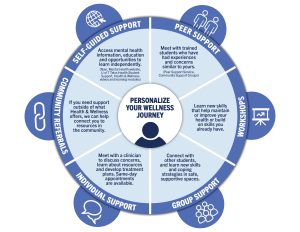 Any of these can be a first step in connecting to available resources and helping you find the care you need, when you need it. You can use each resource as many times as you like, using any combination of services in any order.
There's no one right way to address your mental health—any or all of these options may be helpful to you. U of T is committed to providing easy access to the services, supports and resources you need.
Download: Easy Access to Mental Health Support Diagram (PDF)
Self-guided support
There are lots of ways to access mental health information and education, as well as opportunities to learn independently.
Navi is a virtual tool to help you navigate through the mental health resources available at U of T. It's a good starting point to learn about the range of resources available or to narrow down your options to find what suits you best. You can use Navi to connect to community resources beyond U of T as well.
U of T Telus Health Student Support (formerly U of T My SSP) offers free, real-time and/or appointment-based confidential, 24-hour support for any concern. You can call or chat with a counsellor directly from your phone wherever you are in up to146 different languages.
The Student Mental Health Resource hub will help you discover the different resources available at U of T and in the community, and help you build a toolkit for moving forward.
Build on your foundation of Coping Skills by working through available modules. Or consider Identify, Assist, Refer (IAR) online training, which prepares you with skills and information to support individuals experiencing different types of challenges that impact mental health.
Peer support
Find support from trained students who have had experiences and concerns similar to yours and understand what you're going through. At Health & Wellness Peer Support Service Zoom drop-ins, you'll discuss things like goal setting, building resilience, role-playing and more.
Workshops
Learn new skills that help maintain or improve your health, or build on the skills you already have. Workshops can help you meet up with students who may be feeling the same way, enhance your coping skills at your own pace, and find the help you need to succeed.
Workshops are a great way to try evidence-based tools and techniques, or if you'd like to supplement the care you're already receiving. Some workshops have scheduled dates and times, and others are available whenever you need them.
Group support
Group therapies can help you connect with other students while learning new skills and coping strategies in safe, supportive spaces. Discover how to manage and overcome negative emotions and thoughts as you learn from the experiences of others.
Students report an improved quality of life and perceived sense of self through these clinician-facilitated groups. Visit Mental health clinical services to browse options including CBT for Mood and Anxiety, DBT for Mood and Anxiety, DBT Skills, Craving Change and the  mindfulness-based Stress Reduction group.
Individual support
If you feel like you need mental health support or are unsure what type of care you might need, you can meet with a clinician to discuss concerns, learn about resources and develop treatment plans. As a first step, book a same-day (or soon, if that works better for you) counselling appointment with Health & Wellness.
One session is often enough to address your needs, but you can book subsequent appointments to build on previous sessions or address something new. You'll receive a form ahead of time – please complete it so that both you and your clinician can be fully prepared for your appointment.
Some departments, faculties and colleges also offer on-location counselling, which might be a good fit for you. You may also benefit from seeing a family physician or psychiatrist to explore medication options.
Community referrals
If you need support outside of what Health & Wellness offers, we can help connect you to resources in the community.
Associated Programs

Associated Services