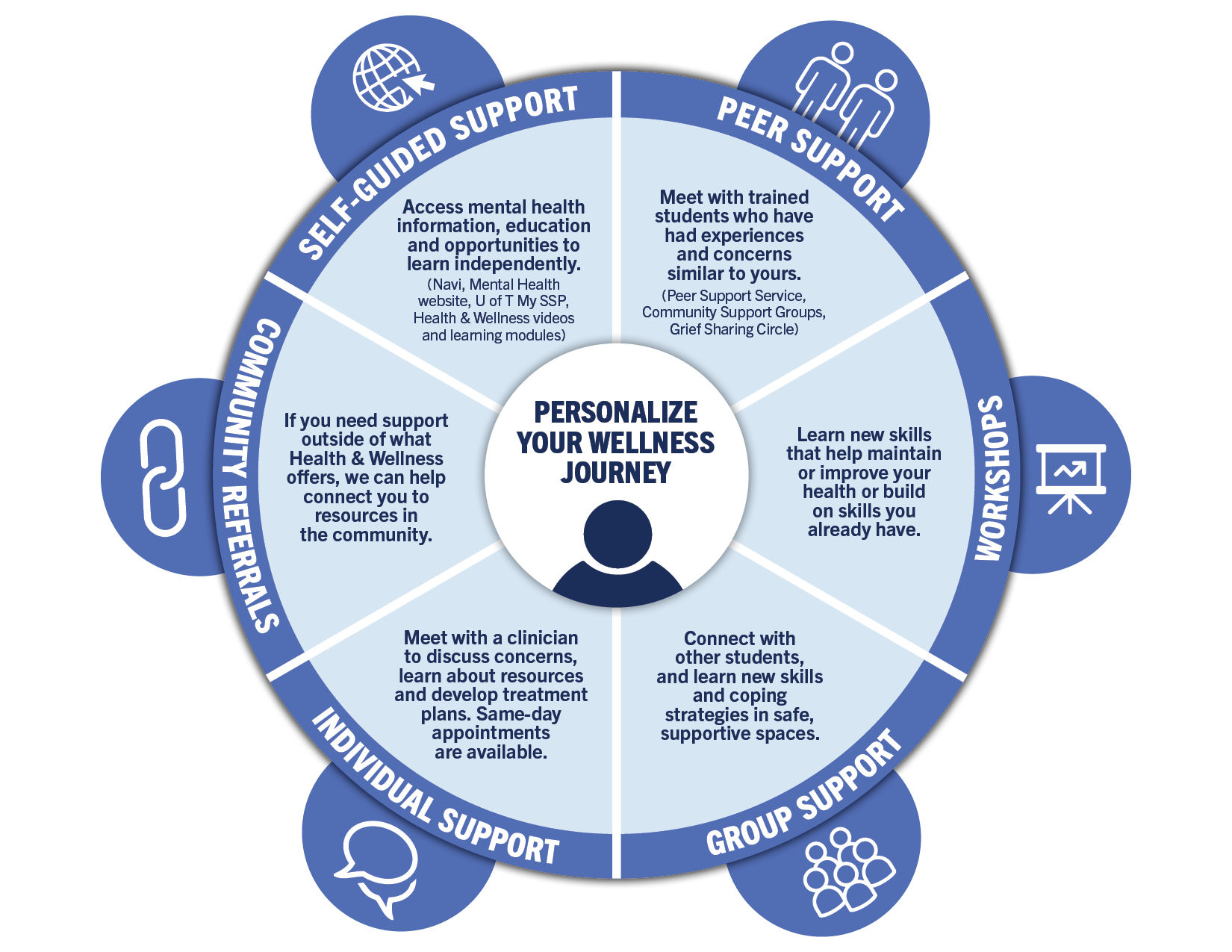 Posted March 7, 2022
By Kirsty Clarke
Student success begins with wellness, and U of T is committed to providing the best possible health care to its community. To meet the recommendations of the Task Force on Student Mental Health, tri-campus health centres are providing a wide range of mental health services (from NAVI, MySSP, workshops, peer-support services and online mental health resources to group and individual care) to give students choices in how and when they access support.
Download: Easy Access to Mental Health Support Diagram (PDF)
To address top-of-mind concerns, students can request same-day (or within a few days) appointments with a counsellor. They can book more appointments at any time and may also be directed to more resources – on campus or off. While they may find their issues adequately addressed in that first session, the goal is to find each student the appropriate care and set them on a path to wellness that meets their individual needs at that point in time.
Since September, the Health & Wellness Centre has provided bookings for nearly 3,000 same-day counselling sessions, with 80 per cent being one-time-only.
"We're really pleased to be able to provide services to students when they need them," says Sandy Chang, Assistant Director of the Health & Wellness Centre. "This enhanced system means students have improved access to a point of contact for treatment when their need is the greatest."
And there are lots of ways to access mental health support beyond counselling sessions. From learning new skills and changing old habits, to talking to peers who understand what they're going through, students can find lots of ways to access mental health support on campus.
These include workshops for students to build a strong foundation of personal coping and resilience skills before they need them. Peer support groups encourage students to work with others who have experienced similar issues. Navi and MySSP provide online resources to guide and support students as well. Students can select what serves them best from a broad menu of options, and try different options and combination of services, depending on their needs at any given time.
"One of the greatest benefits of this system is the capacity for flexibility and responsivity," says Janine Robb, Executive Director for Health & Wellness.
Based on the positive feedback from students, this enhanced model of care is providing the U of T community access to the right support at the right time. For current information about the resources available to staff and students at U of T, explore Health & Wellness.