This week's "just in time" information! Important dates, workshops and events on the St. George campus.
Week of March 8
Ready to Work
Accessibility Services and Careers Event Series
Thru March 31
Discover events to prepare you for success in the workplace!
Register at clnx.utoronto.ca
Accessibility Services and Career Exploration & Education, Student Life
U of T Virtual Drama Festival
March 1 – 31
Optimize your Grad Student Experience
March 8 – 12
Connect with peers in virtual sessions and learn to thrive personally and academically.
GradLife, Orientation, Transition & Engagement, Student Life
S course drop date
Last day to drop an S (Winter term) course without academic penalty.
March 15 St. George (Arts & Science, Daniels, Engineering, Kinesiology, Music)
March 15 UTM
March 29 UTSC
Multi-Institutional Study of Leadership
Check your U of T email for important surveys about YOUR student experience.
Participate to win great prizes!
Study with Me! Online
Until April 23
This series takes place Tuesday – Friday, various times
Students only. Register at harthouse.ca
Registered with Accessibility Services for test & exam accommodations?
Remember to register with Accommodated Testing Services at least 14 days prior to your test/quiz date.
If you miss the registration deadline, your accommodations cannot be guaranteed. Contact your Accessibility Advisor for assistance.
Visit the Accommodated Testing Services website for information and to register.
Global Chatter Hour
Connect online with other U of T students across the globe over games and conversation.
Centre for International Experience, Student Life
SERU survey
Tell us about your experience at U of T and help create a better campus for all students.
Take the SERU (Student Experience in the Research University) survey. Your voice matters.
The SERU is a confidential opportunity to provide feedback abut the student experience at U of T.
Meet Angelli and Tom
Wednesdays, 2 – 3 p.m.
Southeast Asian mentor navigators can help you get involved and find belonging at U of T.
Access & Inclusion Peer Programs, Mentorship & Peer Programs, Student Life
Mindful Moments
Relax, unplug and improve your mood
Try something new! Secular mindfulness meditation and yoga sessions.
Monday – Friday via Zoom. All are welcome.
Student Life
My SSP: Mental health support for all U of T students
Free, confidential, real-time support.
Available 24/7 in multiple languages.
Download the My SSP app or call 1-844-451-9700
It's okay to ask for help
"What's a peer-reviewed source?"
"How do I access these sources?!"
Ask your prof first!
#LearnWithIntegrity
U of T Student Equity Census

Count yourself in
It's important, easy to do and will help to advance equity for students.
Graduate Writing Groups
"One of the best parts is the camaraderie with other graduate students and celebrating each other's successes."
Join today
Orientation, Transition & Engagement, Student Life
Chat with a Librarian
Librarians are online every day to help with your research questions.
Connect from wherever you are.
Today I feel … Lonely… Understood
Even on the toughest days, there are ways to find hope. Discover the resources you need right now.
Career Start
Meet with a peer career advisor to learn more about Career Education & Exploration opportunities and resources.
Book an appointment at CLNx.utoronto.ca
Career Exploration & Education, Student Life
Looking to rent off-campus?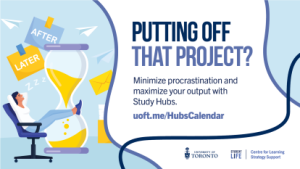 Housing offers support for students looking to live downtown, including tools for searching, budgeting, find roommates, negotiating leases, and more!
Visit housing.utoronto.ca
Housing, Student Life
These "Just in Time" digital slides are displayed on screens in classrooms and campus buildings. Your instructors may also post them during your online classes.
This page last updated on March 3, 2021.