"Just in time" information for the St. George campus.
Important dates, workshops, events, and more!
Week of September 20
UCheck: Upload Proof of Vaccination and Assess Your Symptoms
COVID-19: Protect Yourself and Your Community
UCheck is the University's self-assessment web portal. Everyone must complete a daily COVID-19 symptom screening before coming to campus.
You must provide your vaccination status (including proof of vaccination if fully vaccinated) in UCheck, prior to completing the self-assessment.
For more information, visit utoronto.ca/utogether/ucheck
The University of Toronto is closely monitoring the COVID-19 situation. Please visit utoronto.ca for the latest information. 
U of T Vaccination Requirements
All students, staff, faculty and visitors intending to be present on campus must be fully vaccinated against COVID-19.
Learn about U of T's vaccine requirements, how to show proof of vaccination and where to find vaccination clinics.
utoronto.ca/utogether/vaccines
COVID-19 In-Class Guidelines: What to do if unwell?
Non-Urgent:
1.Report your sickness to your course instructor
2.Go home or to your residence room
3.Email U of T's Occupational Health Nurse (ehs.occhealth@utoronto.ca) who will conduct assessment and contact tracing, and will provide further direction
August 27, 2021
Wear a well-fitting mask in all indoor spaces to protect you and others.
If you require a medical exemption, please contact the Accessibility office on your campus.
My SSP: Mental health support for all U of T students

Free, confidential, real-time support.
Available 24/7 in multiple languages.
Download the My SSP app or call 1-844-451-9700
Queer Orientation
September 20 – 24, 2021
Indigenous Toronto
Stories that Carry This Place
Online via Zoom, Thursday, Sept. 23, 6 – 7:30 pm. (EST)
Register at harthouse.ca
Interfaith Leadership Certificate
Explore interfaith leadership, diverse worldviews & social justice.
Online, Sept. 23 – Oct. 14, Thursdays, 6 – 7:30 p.m.
Multi-Faith Centre, Student Life
Career Wellness Skills Lab
Workshop series starts September 24
Explore wellness tools to support your job search and career in a three-session series.
Register now on clnx.utoronto.ca
Career Exploration & Education, Student Life
ASKme Anything! about U of T
"How can I improve my study skills?"
Stop by an ASKme booth for help from upper-year students and recent alumni.
Thru September 30
@UofTStudentLife and uoft.me/AskMe
Academic Peer Mentors
Get personalized academic support in a welcoming and nonjudgmental environment.
Academic Success, Student Life
Learning Well in Second Year
Flourish in your second-year at U of T in a personalized learning program.
Begins Sept. 24
Academic Success, Student Life
English Pronunciation  Drop-in Fall Season
Tuesdays thru Nov. 2, 12 – 12:30 p.m. (EST)
Online via Zoom
Register at harthouse.ca
Hart House
Community Action Projects (CAPS)
Volunteer with nonprofit and grassroots organizations, meet like-minded peers, and develop career competencies.
October 2021 – April 2022
Centre for Community Partnerships, Student Life
New to U of T?
Check out Starting Point to make the most of your U of T experience from day one.
"Enrolling in Starting Point was probably the best decision I made… It gave me a guideline, a goal so that I would force myself to be involved on campus." – Kira
Orientation, Transition & Engagement, Student Life
ASKme Anything! about U of T
"How can I meet other grad students?"
Stop by an ASKme booth for help from upper-year students and recent alumni.
Thru September 30
@UofTStudentLife and uoft.me/AskMe
Graduate Writing Groups
"Many graduate students feel isolated. This is one place students can get together and write productively."
Join today
Orientation, Transition & Engagement, Student Life
Award for Scholarly Achievement in the Area of Gender-Based Violence
2021 Award Applications – Now Open!
Two awards of $1,500 each – one for grad students and one for undergrads – are available annually. Apply by October 25.
Healing Hearts
A virtual drop-in group for sexual violence survivors of all genders
Join us monthly from 2 – 3:30 pm. to talk consent, healthy boundaries, intimacy after trauma, and more.
September 28, October 12, November 9, December 7
svpscentre.utoronto.ca/healinghearts
Sexual Violence Prevention & Support Centre, U of T
Explore Mindfulness Meditation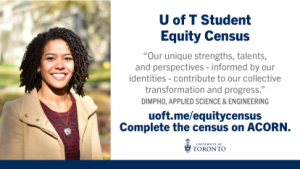 Connect with other students; practice with experienced instructors; and support your mental health and wellbeing.
Visit the Mindful Moments calendar to see all available sessions.
Mindful Moments, Student Life
Go everywhere with Student Life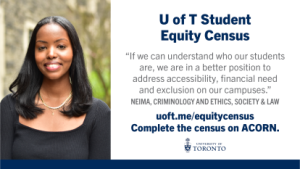 Download the U of T Student Life app at uoft.me/studentlifeapp
These Just in Time Digital Slides are displayed on screens in classrooms and campus buildings. Instructors may also post them during your online classes. Updated each week.
This page last updated on September 15, 2021.