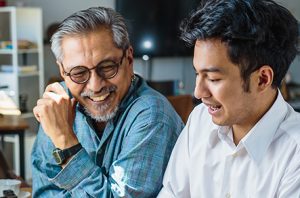 Posted May 2, 2022
By Kirsty Clarke
Student Life has developed a new website for parents, guardians and anyone supporting new undergraduate students at the U of T St. George Campus, parentsandsupporters.utoronto.ca. It's packed with resources, and is intended to answer questions people have about their student's experience, and how to best help their student at U of T.
Supporters can use the site to learn more about the University and the student experience, find resources and answers to frequently asked questions, and find orientation webinars and videos specifically designed for parents and supporters.
The website explains the college and faculties system and lets viewers explore other aspects of U of T life. It also provides a checklist to help those sending students to U of T to prepare them well. Supporters can use the Key Resource Finder to identify (by keyword) specific services to meet a student's needs. If a student is experiencing stress, for example, anyone can look here for suggestions to share with their student about how to manage that, and where to look on campus and online for assistance.
The site includes recordings from last year's parent and supporter orientation sessions online, which provides answers to questions parents and others often ask. There's also a handbook to download as a PDF to review at home or keep as a resource.
Late in the summer there will be new online webinars for orientation—also highlighted on the website. Whether you're a parent, supporter, or a student, this site will be worth a visit. If you're a student, pass along the link to the people helping you, to let them know how to be your best cheerleaders here!