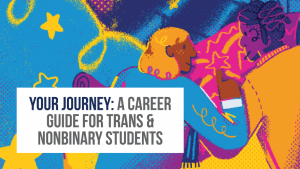 Posted: July 22, 2020
By Samantha Lizardo
The Sexual & Gender Diversity Office and Career Exploration & Education at Student Life have launched the Your Journey: A Career Guide for Trans and Nonbinary Students.
This resource was developed to help trans and nonbinary students and recent graduates navigate their careers by exploring strategies and resources.
Your Journey is a 30-page guide that includes space for reflection on goals, values and experiences, tips on applying to jobs and preparing for interviews, as well as information on rights and navigating situations in the workplace.
It was created through the collaboration of the SGDO, staff from career centres across all three U of T campuses, and trans and nonbinary students, alumni, staff and faculty.
"It can be challenging for anyone to find a job or work, but research and experience tells us that this is disproportionately true for trans and nonbinary people. The SGDO has been in conversations with students, staff and faculty for many years to think about how we might support trans and nonbinary people seeking work and the staff who support them in this process," shares Allison Burgess, Director, Sexual & Gender Diversity Office.
The "Transitioning Employers" (2020) survey by the Institute for Gender and the Economy at U of T's Rotman School of Management and Pride at Work Canada addresses the gaps in policies and practices that some employers in Canada have for supporting trans and gender nonconforming people in their workplaces.
Your Journey hopes to provide insight and answer some important questions that trans and nonbinary students may have throughout their career, specifically when navigating workplace policies, practices and environments.
"As trans and gender nonconforming folks, we have additional worries about being accepted, supported and not tokenized in workplaces. I'm hopeful that this resource will help gender nonconforming students entering the workforce feel more empowered and provide useful advice and information about navigating these concerns at work," shares a U of T student from the department of sociology.
"This guide is an important addition to our resources that offers some concrete strategies and insights to support trans and nonbinary students when they're finding work and considering their careers. I'm pleased that this resource is now available for our students," adds Sandy Welsh, Vice-Provost, Students.
To learn more, download the Your Journey Career Guide today.