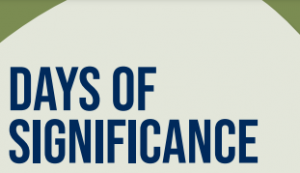 Posted August 17, 2022
By Sarah Ryeland-Etienne
The University of Toronto has a new calendar, thanks to the Multi-Faith Centre.
The Calendar of Significant Dates is a valuable resource for staff, students and faculty. It's a way to learn about and acknowledge significant religious, spiritual and cultural events that happen around the world – and right here on campus – every year.
And it was born out of necessity.
"The Calendar of Significant Dates was created because students were giving us valuable feedback," says Punita Lumb, Associate Director of the Multi-Faith Centre. "Most holidays or notable dates on Canadian calendars reflect Western traditions. But not all of our students identify with Christianity or Western traditions only. We needed to create a way to represent more of our student body."
So, the team at the Multi-Faith Centre got to work. It was a long process, but a valuable one.
"It is by no means an exhaustive list, but it is an important step forward," says Lumb. "Students are feeling seen, and faculty and staff are better able to understand students' lives outside of the classroom. That helps them honour requests for time off, scheduling changes and more."
The calendar is also a living document, with changes and additions being thoughtfully made.
"The most important aspect for us," says Lumb, "is to understand that there is still so much room to grow. The more we learn and understand about one another, the more inclusive our campus becomes. And that is the ultimate goal."
For more information about the Calendar of Significant Dates, contact multi.faith@utoronto.ca.