Posted on August 16, 2021
By Samantha Lizardo
Photos by Aaron Mason
On August 10, 2021, members from the U of T Indigenous community, the Toronto community and the broader University community came together for the First Nations House Tipi Raising.
This tipi raising is a major step toward creating Indigenous spaces at the University of Toronto.
The creation of meaningful and accessible Indigenous spaces on U of T's campuses is integral to the University's response to Canada's Truth & Reconciliation Commission, as outlined in U of T's Calls to Action and the TRC Steering Committee report, Answering the Call. Wecheehetowin.
The First Nations House tipi was raised in the north courtyard of the Earth Sciences Centre between Bancroft Ave, Huron Street and Willcocks Street. Through collaborative efforts and in accordance with U of T health and safety protocols, staff and faculty from Indigenous U of T and other University departments, as well as members from the Toronto community were able to come together to help set up and take down the tipi for the first time.
The focus of the tipi raising was to assess the space for future improvements as First Nations House plans to use the outdoor space for engaging in Indigenous ceremony, hosting events and programs, creating experiential learning opportunities and more.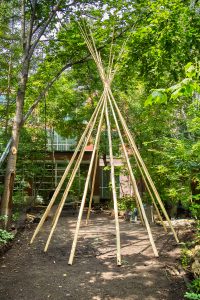 The artwork on the tipi is also significant as it has been a symbol for First Nations House for many years. It appears in one of the many murals inside the North Borden Building where First Nations House and the Centre for Indigenous Studies are located. The artwork also represents First Nations House's values for creating inclusive spaces where everyone is welcome to connect and gather as a community.
"For me, I like the image for what I understand it to be conveying. The figures are standing facing the sun, holding up an eagle feather. What I interpret from this image is reverence for creation, and gratitude for our other than human relatives. The mural from which it is derived depicts the Mineral, Plant and Animal relations. All of which are necessary for human life to continue. The six figures standing together are acknowledging this. I interpret this as a depiction of ceremony," shares Michael White, Director, First Nations House.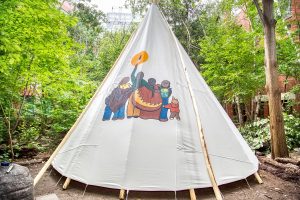 First Nations House plans to have the tipi and other traditional structures available for set up and stored for future use by the U of T community. Through advice from the First Nations House Student Advisory Committee, resources and learning opportunities will also be made available to students and U of T community members who would like to learn more about how to set up and take down the tipi. To make a request and learn more, email fnh.info@utoronto.ca.
There is still more to come as many similar initiatives are being planned in spaces across all three campuses.
"This is only the beginning," shares Michael. "I'm personally very excited to see the culmination of many years of efforts to Indigenize spaces, to work with various divisions to ensure that Indigenous students have access to purpose-built spaces, spaces that we are able to come together as a community. I'm looking forward to the next generation of students at our university, when they come on campus to feel a sense of belonging and inclusion."
For updates on future projects, upcoming events and more from First Nations House, sign up for the First Nations House listserv.