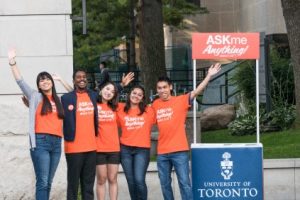 Updated August 24, 2022
By Sarah Ryeland-Etienne
The ASKme program is back, welcoming students to the St. George campus and answering their questions about U of T. With the number of students coming to campus for the first time being so much higher than usual, ASKme will have more impact than ever before.
From August 22 – September 23, students will find info booths all over campus, staffed by upper-year students who will share their knowledge with their peers.
As staff and faculty, you can participate by wearing an ASKme button to show you're available to answer questions. Pick up your button from an ASKme booth, through September 23.
Locations include:
King's College Rd. & College St., at the campus gates
St. George St. & College St., at the Koffler Student Services Centre (KS)
St. George St. & Willcocks St., near Sidney Smith Hall (SS)
St. George St. & Harbord St., at the Robarts Library (RL)
And remember, you don't need to have all the answers. Here are some general places to refer students:
Wear your ASKme button from August 22 – September 23. ASKme is a Student Life initiative. For more information, contact Diana Scattolon at diana.scattolon@utoronto.ca or 416-946-7752.